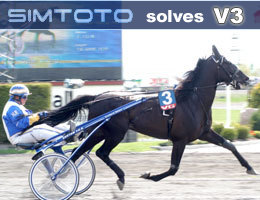 We are delighted to announce that our generated V3 slip suggestion for Årjäng 01.06 bags all winners! The 240 kroner bet results in 3 marks and a 489 kroner in net earnings.
The only banker on our slip, MELLBY FRODO, won comfortably, and Simtoto generated profit for everyone who followed our advice for the races at Årjäng.
More rewarding in terms of gambling profit, was it when CARL JOHAN JEPSON steered BEATINATHEDEVIL F. to first place in V3-1. BEATINATHEDEVIL F. was rated 4 in the V3 gametype with 10% of the marks, but Simtoto ranked the horse and driver as a 5th choice and put it on the slip thanks to hedging in the race.
Simtoto continues to deliver the goods, and we look forward to assisting you next time!