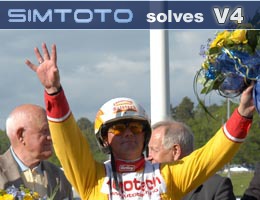 On Gävle 11.12 everything went according to the Simtoto gameplan. Our slip suggestion for 392 kroner in the V4 game hit 4 marks and banked a 1.417 kroner in net earnings!
The only banker on our slip, SHOW TIME, won comfortably, and Simtoto generated profit for everyone who followed our advice for the races at Gävle. That was also the case with second ranked AVID FRONTLINE with HELENA EHN in the sulky.
Our slip suggestion became all the more profitable when TOMAS PETTERSSON steered BJÖRS IDUN to victory in V4-2. BJÖRS IDUN was rated 4 in the V4 gametype with 13% of the marks, but Simtoto ranked the horse and driver as a first choice and comfortably marked it on the slip.
Simtoto will continue to automatically generate slip suggestions, and deliver winnings for you in the future!