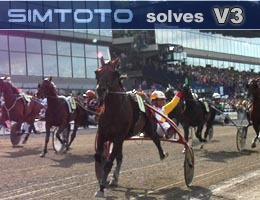 On Jägersro 05.04 everything went according to the Simtoto gameplan. Our slip suggestion for 240 kroner in the V3 game hit 3 marks and banked a 958 kroner in net earnings!
With DANCINGQUEENDIABLO as our only banker, Simtoto landed profit for everyone who followed our advice for the races at Jägersro. Simtoto's first pick DANCINGQUEENDIABLO was the only favourite who managed to win this time. That fact contributed nicely to the size of our winnings.
Only an outsider could significantly increase our winnings, and STEFAN SÖDERKVIST coached SAMPSON SPITHA to victory in V3-3. SAMPSON SPITHA was rated 4 in the V3 gametype with 9% of the marks, but Simtoto ranked the horse as a first choice and comfortably marked it on the slip.
Simtoto hopes all of our users are happy with our slip suggestions, and we look forward to lead the way in the next races!