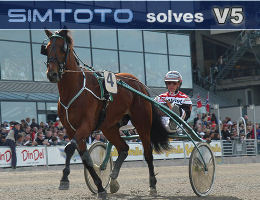 Simtoto's slip suggestion for the V5 at Mantorp 13.08 gets every winner right. A slip price of only 300 kroner, results in 5 marks and a nice 2.258 kroner in net winnings!
JACK BOWLER assumed responsibilty as our single banker on the slip, and Simtoto fixed profit for everyone who followed our advice for the races at Mantorp. That was also the case with second ranked FIGHTER MARKE with ROGER PETTERSSON in the sulky.
Only an outsider could significantly increase our winnings, and JESSICA FLODIN controlled QUANTUM TIC TAC to first place in V5-4. QUANTUM TIC TAC was rated 8 in the V5 gametype with 4% of the marks, but Simtoto ranked these two as a thrid choice and comfortably marked it on the slip.
Simtoto will continue to automatically generate slip suggestions, and deliver winnings for you in the future!