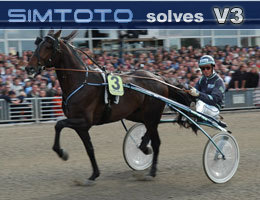 We are delighted to announce that our generated V3 slip suggestion for Mantorp 11.02 bags all winners! The 210 kroner bet results in 3 marks and a 467 kroner in net earnings.
With one banker on the slip, OLIVINIA, Simtoto delivered profit for everyone who followed our advice for the races at Mantorp. Simtoto's first pick OLIVINIA was the only favourite who managed to win this time. That fact contributed nicely to the size of our winnings.
More rewarding in terms of gambling profit, was it when JANNE KORPI coached QUEEN ADELE (FI) to victory in V3-2. QUEEN ADELE (FI) was rated 5 in the V3 gametype with 11% of the marks, but Simtoto ranked the pair as a thrid choice and comfortably marked it on the slip.
Everyone at Simtoto will do our best to continue to provide you with the best slip suggestions!