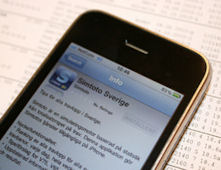 Simtoto is now also available through an iPhone application in which our users can find Simtoto tips, rankings and slip suggestions for racing events on all tracks in selected countries.
As an extra service to our users Simtoto also offers continously updated information from the tracks, including pool information, information about wihdrawings and results as soon as this information becomes available from the public channels in the selected country.
This means that you quickly and efficently can plan your game, check out how our slip suggestions are doing or find out who has won a race while you are travelling or are away from your computer.
The Simtoto iPhone applications can be found in the App Store by the name "Simtoto" followed by a country name written in the native language. E.g. "Simtoto Norge" and "Simtoto Sverige". You will probably also find it if you just search for "Simtoto" on the App Store search page.The price is only NOK 49. For this low amount you will have efficent and free access to our tips and rankings for all racing events in the seleceted country. Every day. The whole year!
With Simtoto installed on your iPhone you can spend the time on the bus, the train or any othe place in the best possible way.
Good luck with your game!