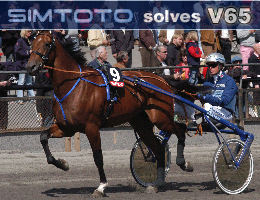 6 marks, and a 1.042 kroner in net earnings, sums up Simtoto's 720-kroner slip suggestion for the V65 at Sørlandet 10.02.
The only banker on our slip, TRACY KRONOS (IT), won comfortably, and Simtoto generated profit for everyone who followed our advice for the races at Sørlandet. That was also the case for second rated KOMNES ANNA, EIKFAKSEN and SOMEWIFESOMEWHERE (SE).
To sum up, Simtoto's ratings were in accordance with how the other players ranked the races. With no real surprises at Sørlandet, the V65 prize never reached a high. But a profit is still a profit!
Simtoto hopes all of our users are happy with our slip suggestions, and we look forward to lead the way in the next races!