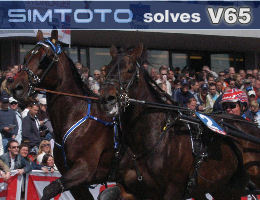 On Forus 06.11 everything went according to the Simtoto gameplan. Our slip suggestion for 600 kroner in the V65 game hit 6 marks and banked a 964 kroner in net earnings!
With one banker on the slip, ASK VIKING, Simtoto landed profit for everyone who followed our advice for the races at Forus. That was also the case with second ranked SYOSS (TY) with GEIR MIKKELSEN in the sulky.
Only an outsider could significantly increase our winnings, and GEIR GUDMESTAD controlled CONQUESTADOR B.R. to first place in V65-1. CONQUESTADOR B.R. was rated 4 in the V65 gametype with 3% of the marks, but Simtoto ranked these two as a second choice and comfortably marked it on the slip.
Having banked today's winnings, Simtoto will continue to improve our simulations to provide you with even better slip suggestions!