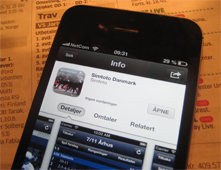 If you have an iPhone you can now get access to Simtoto information about races in Denmark via our new app for your mobile phone. Search for "Simtoto Danmark" on Apple App Store and purchase the application for as little as 45 Danish kroner.
With our Simtoto Denmark app on your phone you have instant access to our tips and ratings no matter where you are.
After having installed the app for Denmark you get access to all our slip suggestions, ratings and information about all Danish races - for free - every day!
As an additional service to our users the app will also provide information information about horses withdrawn from races and results as soon as they become available in the Simtoto system.
Read more about the new "Simtoto Danmark" application in Apple App Store and look forward to many exciting news on the Simtoto app in the future.